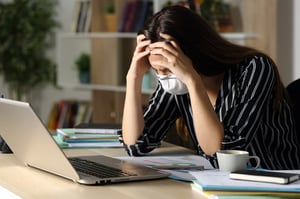 The world is changing, so we must change too. As hopeful as we all are for what 2021 will bring us, it seems COVID-19 will be sticking around for a while. Does that mean I cannot file a bankruptcy if the court houses are closed? No! In fact, just because the physical federal courthouse building is closed, does not mean we cannot file bankruptcy cases.
Feeling Safe While Filing Bankruptcy During COVID-19
At Kain & Scott, safety is our utmost concern, especially during this pandemic. Often our information is pulled up on the internet when potential clients are searching for bankruptcy explanations, options, and a great firm to file with. We strive to promote our website's growth to the community but we also want it to be known the changes we have undergone to make sure our information is easy to find.
Attorney - Client Communication at Kain & Scott, P.A.
There is obviously going to be a lot of communication between an attorney and client, as well as the rest of the firm and the client. During the different orders Minnesota has faced over the last year, we are happy to report that we offer different versions of appointments, to better accommodate the changing circumstances. We want to make sure our employees and clients feel safe and comfortable while they are learning about bankruptcy and going through the process with us.
How We Communicate During COVID-19
The initial consultation may be done over the phone, Zoom, FaceTime, Skype, or in person. The Review & Sign appointment may also be completed over the phone, Zoom, FaceTime, Skype or held in person. The implementation of
When meetings are conducted in person, we require masks to be worn by guests and employees at all times, and maintain an extremely regimented cleaning procedures, while conducting our meetings as usual.
CALL NOW FOR A FREE STRATEGY SESSION FROM A MN BANKRUPTCY LAWYER AT KAIN & SCOTT
There is no excuse to not seek a free consultation with Kain & Scott, what can you lose?! Call us, message us, set up an appointment and learn what your best options are during these troubling times. Rain or shine, Covid or not, we are always going to be here for you. Check us out at www.kainscott.com anytime!