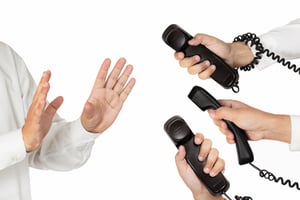 You may wonder if there is any sort of protection afforded to you when you file for bankruptcy. Good news, there is! The bankruptcy code has a provision, 11 U.S. Code Section 362, that offers debtors relief from the endless communication and disturbances from creditors. This provision is known as the Automatic Stay. It is certainly one of the benefits of filing for bankruptcy.
How does it work? The automatic stay goes immediately into effect the day your chapter 7 or chapter 13 bankruptcy case is filed. This means that the creditors and debt collectors are prohibited from contacting the debtor and collecting on the debt. Say good-bye to those harassing calls and letters!
What else does the automatic stay do? Beyond stopping communication and collection, the automatic stay can protect a debtor in many other ways. Filing for bankruptcy can stop a pending eviction and temporarily stop foreclosure proceedings; it can also prevent a debtor from losing resources such as utilities. The automatic state can also halt bank account and wage garnishment from debt collectors and even the IRS!
How long does it last? The automatic stay remains in effect until the bankruptcy petition is dismissed or discharged. For example, in a chapter 7 bankruptcy that automatic stay will list about 3 months, while in a chapter 13 bankruptcy, the automatic stay could last 3-5 years!
What if you are contacted by a creditor during the automatic stay? If you have correctly listed the creditor in your petition, they will receive notice of your filing via mail. If they contact you anyway, they have violated the automatic stay! You may choose to inform them you have filed for bankruptcy or refer them to your attorney. Your attorney should advise you that within the first month, if you continue to receive creditor statements, ignore them—sometimes things are lost in translation via the mail. If you continue to receive calls and letters after one month, let your attorney know and they will send notice to the creditor.
CONCLUSION
When the time is right, or when you are ready, reach out to Minnesota's HIGHEST GOOGLE reviewed bankruptcy law firm at www.kainscott.com. You will be so happy you did!