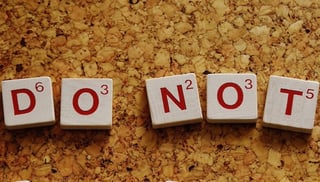 There are 5 mistakes that may cause your bankruptcy petition to be denied and prevent you from erasing your debt. The 5 mistakes to avoid when filing for Chapter 7 bankruptcy in Minnesota are:
Filing for Chapter 7 bankruptcy too soon after receiving a discharge in another bankruptcy;
Not understanding the income requirements for a Chapter 7 bankruptcy;
Failing to disclose all your financial information on your petition;
Using one line of credit in excess for the three months prior to filing;
Choosing the wrong Minnesota bankruptcy law firm to represent you in your Chapter 7 bankruptcy.
Let's look at each of these mistakes more closely to find out how you can avoid your Chapter 7 bankruptcy petition being denied:
1. The timing of your Chapter 7 bankruptcy petition matters
One of the ways that your Chapter 7 Bankruptcy petition can be denied is if the timing of your filing is wrong. The general rule is that if you have filed Chapter 7 bankruptcy in the past and received a discharge, you must wait 8 years from the date of the earlier filing to file again. Similarly, if you have filed for Chapter 13 bankruptcy in the past and received a discharge, the waiting period is 6 years.
Having filed Chapter 7 bankruptcy in the past 8 years does not prevent you from filing other types of bankruptcy, however. An experienced bankruptcy specialist, like the ones you will find at Kain & Scott, can help you determine if you are eligible for a Chapter 7 "fresh start" bankruptcy.
2. Chapter 7 bankruptcy income requirements
You may not have realized that in order to file Chapter 7 Bankruptcy in Minnesota, you must meet the income requirements first. The income eligibility requirements are based on what the median income in Minnesota is for a family the same size; if your median income is less than that of the median household in Minnesota, you are eligible to file Chapter 7.
However, the court will also consider what your income is after certain expenses are deducted: someone above the median income might still qualify after deductions are made. To determine whether your household meets the income eligibility requirements, consult a qualified Chapter 7 Bankruptcy Attorney.
3. Omissions by mistake and fraudulent Chapter 7 bankruptcy filings
When filing for Chapter 7 Bankruptcy in Minnesota, it's important to make sure that you include all of your debt in your petition; only the debts listed in your petition will be discharged.
If you forget to list a debt on your petition, your paperwork can be amended to include the debt up to a certain point in the bankruptcy process. If, however, you purposely omit financial information (such as failing to disclose the income earned from a second job where you are paid in cash) or take steps to hide assets (such as hiding assets in an account in another person's name), your bankruptcy discharge will be denied on the grounds of fraud.
To make sure that all of your debts are included in your petition and that you are not engaging in fraudulent activity when disclosing your financial information, seek the advice of a Minnesota bankruptcy specialist.
4. The Chapter 7 may not discharge some of your debts
While generally bankruptcy petitions are approved, and discharges entered, there are circumstances where a specific debt may be excepted from discharge, while your other debts are discharged. The most common example of when this occurs is when the person filing bankruptcy excessively uses a line of credit in the three months before filing. Excessive use of credit right before filing bankruptcy can make it appear that you are taking advantage of the possibility of debt discharge. To prevent this, consult a bankruptcy specialist who is familiar with partial debt discharge.
5. The wrong bankruptcy attorney can cause your bankruptcy to be denied
When choosing a Minnesota bankruptcy law firm, it is important to pick someone who has the education and real-world experience of filing Chapter 7 bankruptcy in Minnesota.
Kain & Scott is Minnesota's leading bankruptcy law firm for good reason; for almost 50 years, our team of bankruptcy specialists have helped Minnesota families just like yours become debt-free with Chapter 7 bankruptcy. Our firm only handles bankruptcy, which means we have the knowledge and experience to make sure that your bankruptcy is approved and all of your unsecured debt is erased.
We offer our clients a free initial consultation, a FREE 90 Day Credit Repair Program, affordable flat-rate fees, and a 100% Money Back Guarantee. And, with convenient services like filing your petition from the comfort of your own home, filing Chapter 7 bankruptcy with Kain & Scott has never been easier!
For more information about our services and to Find Out If You Qualify For Chapter 7 Bankruptcy, visit us online or contact our office today!