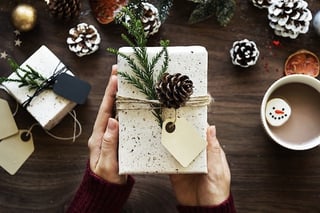 Has your debt landed you on the naughty list this year?
It's that time of year when Santa is making his annual inventory of all the good and bad Minnesotans. But Santa isn't alone: many Minnesota families are also taking a good hard look at their finances and wondering how much crunch they will feel once their credit card statements come in January. According to a recent report, the average American family spent almost $1,000 on just gifts during the 2016 holiday season and the projected expense of the 2017 season is expected to be even higher. For Minnesota families that are already struggling financially, the added cost of the holidays can turn a bad situation into a dire one.
Whether you have a couple thousand dollars in debt or hundreds of thousands in debt, the stress of owing money to creditors can take a toll on your emotional, and even physical, health. Between constant calls from creditors demanding payment and fear of foreclosure, wage garnishment, and repossession, having large amounts of debt you can't pay can cause a significant negative impact on your family's well-being.
There are many reasons people accumulate debt. Sometimes, it's a simple case of making poor financial decisions. Most of the time, however, families accumulate debt because of unexpected circumstances, like serious illness, loss of employment, economic downturn, divorce, or even a death in the family.
Whatever the reason for your family's debt, you can put your past debt behind you this holiday season by eliminating your unsecured debt with Chapter 7 or Chapter 13 bankruptcy.
Chapter 7 vs. Chapter 13 bankruptcy
Chapter 7 bankruptcy allows you to erase your unsecured debt after liquidation of your assets. For families who can't afford a repayment plan and don't have big-ticket items they want to keep, Chapter 7 bankruptcy can give your family a fresh start by wiping your debt clean.
For working families that can afford partial repayment of their debts, Chapter 13 bankruptcy allows you to make affordable payments for a period of 3 to 5 years on your unsecured debt; after successful completion of your repayment period, your remaining debt will be discharged. With Chapter 13 bankruptcy, you can keep your most expensive assets, like your house and car, while whittling away at your debt balance.
Minnesota bankruptcy is fast and affordable with Kain & Scott
There are two things that every Minnesota family is short on during the holiday season: time and money. Our bankruptcy law firm, Kain & Scott, understands that your time and money are precious resources that shouldn't be wasted. That's why we offer fast and affordable Chapter 7 and Chapter 13 bankruptcy for Minnesota families.
For our Chapter 7 clients, their unsecured debt could be eliminated in as little as 90 – 120 days from the date of filing their bankruptcy petition with the court. Our Chapter 13 clients can enjoy a short repayment period of 3 to 5 years, after which their debt is erased forever.
But that's not all – because we are dedicated to giving our Minnesota clients fast debt relief, we file your bankruptcy petition within days of your free initial consultation, giving you the fastest debt forgiveness possible.
And, with affordable flat-rate fees, free initial consultations, and a 100% Money Back Guarantee, erasing a lifetime of debt has never been easier or more economical.
Convenient bankruptcy services and free credit repair
Kain & Scott also saves you time and money by offering convenient bankruptcy services and free credit repair.
Start your easy Minnesota bankruptcy with our free initial consultation and at-home filing; whether via telephone, Skype, or Facetime, one of our friendly bankruptcy specialists will determine which type of bankruptcy is right for you and complete your paperwork, all while you stay nice and warm at home!
Once your bankruptcy case is filed and your debt is discharged, our bankruptcy specialists help you tackle the next phase of your financial makeover: repairing your credit. Your credit score is a three-digit number that creditors use to determine whether to extend you financing. Despite the fact that most families with large amounts of debt also have low credit scores, most bankruptcy law firms disappear once your debts are discharged. At Kain & Scott, we believe in comprehensive debt solutions: with our Free 90 Day Credit Repair Program, you can get the tools you need to improve your credit score fast.
If you're ready to tackle your debt this holiday season, the experienced and professional bankruptcy specialists at Kain & Scott can help you erase your debt for good and boost your credit score. To get started on your new debt-free life, visit us online at www.kainscott.com to schedule your free initial consultation today.