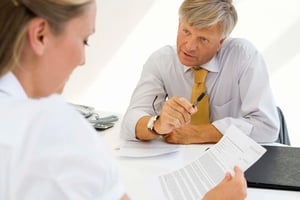 A necessary step of the bankruptcy process is what is called a 341 Meeting. Your attorney may also refer to it as a meeting of creditors. What is the purpose of this meeting? Why is it important? What happens during this meeting? These are all great questions with very straightforward answers!
To get right down to it, the purpose of this meeting is to make things official and under oath. Bankruptcy is a legal process. Things have to be by-the-books and all business. The 341 meeting is a court hearing that ensures all is above board. This meeting also gives your creditors their opportunity to file claims and/or objections. Essentially, this meeting is to ensure fairness for all parties.
Why is this important to attend? Bottom line: If you do not attend this meeting you will not be able to discharge your debts. This meeting is a mandatory step in the bankruptcy process. The good news is that this meeting is not as scary as you might think!
What happens during this meeting? This is where a lot of anxiety for our clients stems from. Most of us are terrified at the idea of a court appearance and showing up in front of a judge. It is important for you to know that these meetings are run-of-the-mill, everyday occurrences that only last between 5-10 minutes. A Kain & Scott attorney will meet with you before your meeting, walk you through the proceedings, and go over exactly what questions will be asked and what you should expect. They will also be right next to you for the duration of the meeting to help you field any questions!
The 341 meeting may seem like a big production and something to be apprehensive about but we assure you it is nothing to sweat!
Conclusion
Kain & Scott is MN's oldest and MOST EXPERIENCED bankruptcy law firm. Schedule a free consultation or learn more about the bankruptcy process by visiting www.kainscott.com.