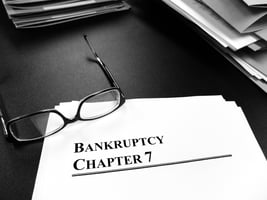 LifeBack Law Firm has been helping Eden Prairie, MN residents get their lives back since 1972, and we can help you too. LifeBack Law Firm is a Chapter 7 Bankruptcy attorney near me in Eden Prairie, MN. We have an office location right near you. We are located at 7525 Mitchell Road, Suite 208, Eden Prairie, MN 55344. When you are down and out and you are suffering from a debt problem, let the kind and helpful people at LifeBack Law Firm help you get rid of debt and help repair your credit using LifeBack Law Firm FREE 90-Day Credit Repair Program.
At LifeBack Law Firm, we only help Minnesotans get rid of debt and repair their credit, that's all we do. And the only two types of bankruptcy we do is Chapter 7 and Chapter 13 Bankruptcy. With Chapter 13 Bankruptcy, we can help you reduce your debt payments dramatically and get a payment you can afford to pay. A lot of people think when you file a Chapter 13 Bankruptcy, you pay all your creditors in full. This is typically not true at all. In the vast majority of Chapter 13 plans, you pay what you can afford to pay and the balance of the debt is wiped out, tax free, forever.
Say you have 50k in debt. Now say you pay $250 per month for 36 months in a Chapter 13 plan. After you pay a total of $9,000.00 over 3 years, the balance of 41k in debt gets wiped out, tax free, forever. Not a bad deal right? There is life after debt. We have helped thousands of Minnesotans and we can help you too.
CALL NOW FOR A FREE STRATEGY SESSION FROM A MN BANKRUPTCY LAWYER AT LIFEBACK LAW FIRM
When the time is right, or when you are ready, reach out to Eden Prairie, MN's best bankruptcy law firm by going now to www.lifebacklaw.com. You will be so thankful you did!